devra fox
Née à Seattle, WA en 1989. Vit et travaille à San Francisco, CA.
Les dessins au graphite de Devra Fox représentent des éléments biomorphiques, inspirés de formes organiques végétales et rondes. Ses compositions, toujours très esthétiques, flirtent souvent avec l'abstraction, tout en étant animées d'une forte charge narrative. Utilisant la capacité des plantes à s'adapter et à évoluer dans leur environnement, les dessins de Devra Fox fonctionnent comme des allégories d'expériences humaines intimes, tant physiques que spirituelles.
Devra Fox a obtenu un BA en Studio Art du Bard College en 2012 et un MFA en arts visuels de la Colombia University en 2016. Elle a participé à des résidences à Pocoapoco, The Women's Studio Workshop, The Vermont Studio Center et au Kala Art Institute. Son travail a été exposé dans de nombreuses galeries nationales et internationales.
voir l'exposition A Root, A Rock
voir l'exposition Le Coprs Paysage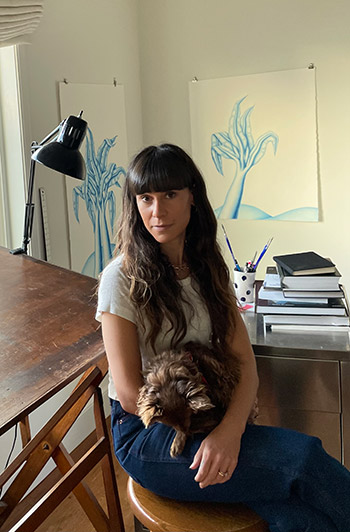 Born in Seattle, WA in 1989. Lives and works in San Francisco, CA.
Devra Fox's graphite drawings depict biomorphic elements, inspired by vegetal and round organic shapes. These esthetic compositions often flirt with abstraction, while carrying a narrative aspect. Using the capacity of plants to adapt and evolve in their environment, Devra Fox's drawings function as allegories of intimate human experiences, both physical and spiritual.
Devra Fox graduated with a BA in Studio Art from Bard College in 2012 and a MFA in Visual Art from Colombia University in 2016. She participated in residencies at Pocoapoco, The Women's Studio Workshop, The Vermont Studio Center and Kala Art Institute. Her work has been exhibited in numerous galleries nationally and internationally.
see A Root, A Rock exhibition
see Le Coprs Paysage exhibition