HYDEON
Né à National City en Californie en 1985. Vit et travaille à Brooklyn, New York.
Ian Ferguson, alias Hydeon, est diplômé en design graphique de l'Art Institute of California - San Diego. Depuis, Hydeon a laissé la communication visuelle pour développer sa carrière artistique. Il y déploie ses conjugaisons anachroniques sur toile et sur bois, comme sur papier.
La palette guerrière de Hydeon met en scène des figures au teint pâle vêtues de parures dramatiques. Il mêle les siècles pour créer une temporalité plurielle. Sur fond sépia, une noblesse aux coiffes sombres mais extravagantes est aux prises avec les invasions de vandales contemporains, personnages troquant volontiers le cheval pour la bicyclette. Des édifices victoriens à la figure du minotaure, ses compositions croisent les époques et produisent un éventail de miniatures singulières au syncrétisme théâtral. Le port altier et le regard défiant des visages costumés assoit la dimension dramaturgique de l'œuvre de cet artiste ésotérique. En parallèle des portraits et des représentations anthropomorphes, son œuvre dévoile un penchant pour l'urbain ; puisant dans la chambre noire de ses souvenirs pour engendrer ses saynètes baroques. Architecte d'un onirisme belliqueux, ses villes sont le théâtre d'une narration faite d'une multitude d'interactions.
Hydeon expose régulièrement aux Etats Unis, notamment à la Nouvelle Orléans, et en Allemagne. En 2021, il participe à une résidence d'artiste au Palazzo Monti, à Brescia en Italie, avant de présenter sa première exposition personnelle en France.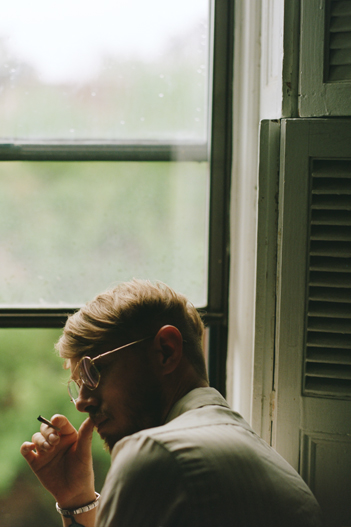 Born in National City, California in 1985. Lives and works in Brooklyn, New York.
Ian Ferguson, also known as Hydeon, graduated in Graphic Design from the Art Institute of California - San Diego. Since then, Hydeon has left design in favor of an artistic career. He develops his anachronistic compositions on paper, canvas and wood.
Hyderon's bellicose palette features pale-skinned figures dressed in dramatic adornments. His pieces confront the centuries to create a plural temporality. On a sepia background, noble figures dressed with dark and extravagant headdresses grapple with the invasion of contemporary vandals, who don't hesitate to replace horses with bicycles. From Victorian buildings to the figure of the minotaur, his compositions traverse time to produce a range of singular miniatures with theatrical syncretism. The attitude and defiant gaze of the masked faces bring a dramaturgical dimension to the work. Alongside portraits and anthropomorphic representations, his work reveals a taste for urban environments, emerging from the darkroom of his memories to generate his baroque playlets. Architect of a disturbing dream, his cities are the scene of a narrative made of a multitude of interactions.
Hydeon exhibits regularly in the United States, notably in New Orleans, and in Germany. In 2021, he participated in an artist residency at Palazzo Monti, in Brescia in Italy, before presenting his first solo exhibition in France.