Francesco Igory Deiana
Né à Milan en Italie en 1986. Vit et travaille à Brooklyn, NY.
Langoureuses, les délicates courbes grisonnantes de Francesco Igory Deiana se tracent à la mine graphite. Les lignes sont généreuses, la densité du trait varie pour laisser apparaître des éclaircies au creux des vagues noires qui s'épanchent à la surface du papier cartonné. En dépit de l'absence de couleurs, une chaleur paisible émane des productions de l'artiste milanais. Elle se formule dans la sobriété du monochrome, dans la frugalité des traits et dans la juxtaposition des vides et des pleins.
Par la minutie de son geste et la précision de son tracé, il se joue du mode de fabrication de ses dessins, profondément humain par la simplicité d'un trait de crayon sur une feuille de papier, évoquant pourtant la reproduction d'images mécanisée par l'omniprésence de cette trame verticale. Ses compositions compactes concentrent des fils épais et sinueux qui dessinent des formes organiques voire cérébrales. Elles produisent des enchevêtrements d'une densité qui affirme la matérialité de ses œuvres, au point de leur offrir une certaine pesanteur. Francesco Igory Deiana interroge la place de l'humain et de la nature dans une société industrialisée qui tend à se dématérialiser.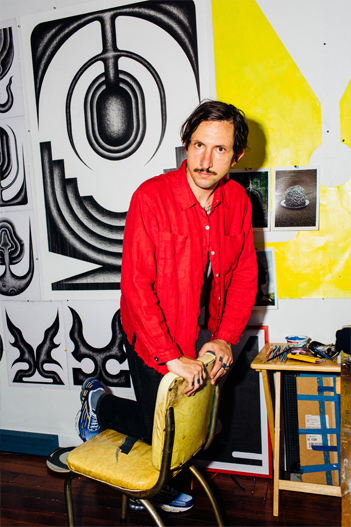 Born in Milan, Italy, 1986. Lives and works in Brooklyn, NY.
The delicate grizzled curves of Francesco Igory Deiana are traced with graphite lines. The lines are generous, and their density varies, to reveal thin hollows inside the black waves spreading across the surface of the cardboard canvas. Despite the absence of colors, a peaceful warmth emanates from the productions of the Milanese artist. That peace is formulated in the sobriety of a monochrome palette, in a certain frugality of the elements and by a juxtaposition of emptiness and fullness.
Through his gesture and the precision of his images, he plays with the drawing process: profoundly human through the simplicity of a pencil stroke on a sheet of paper, while evoking the reproduction of mechanized images by the omnipresence of the vertical frame. The compact compositions concentrate thick and sinuous threads that create organic forms. They produce entanglements of a density that assumes the materiality of his works, to the point of giving them a certain gravity. Francesco Igory Deiana questions the place of mankind and nature in an industrialized society that tends to dematerialize itself.
CV
GROUP SHOWS
2021
● De la ligne dans le fil, Bim Bam Gallery, Paris, FR